Difficulty: Easy
Impact Level: Normal
Target Body Parts: abs, triceps, upper back, lower back, chest, shoulders
Instructions
Start lying on the floor. Pull your belly button to your spine to activate the core and lengthen your chest forward along the floor. Activate your legs by pushing the tops of your feet firmly down onto the floor. Have your hands next to your underarms (slightly further back than under your shoulders) and start to press them down into the floor. Ensure you keep your core and legs activated as you push up, only going as far as is comfortable for your back. Try to lift your chest up to the sky and draw your shoulders back. Keep the core active as you slowly lower yourself back to the floor.
A common mistake is to relax the belly during the pose which puts pressure on your spine. Make sure the belly is activate and strong throughout, even during the release.
How to make Cobra Pose easier
Only lift the chest a small amount off the floor
How to make Cobra Pose more challenging
A stronger pose is Upward Facing Dog, where the thighs and knees are lifted off the floor. See that pose for full description.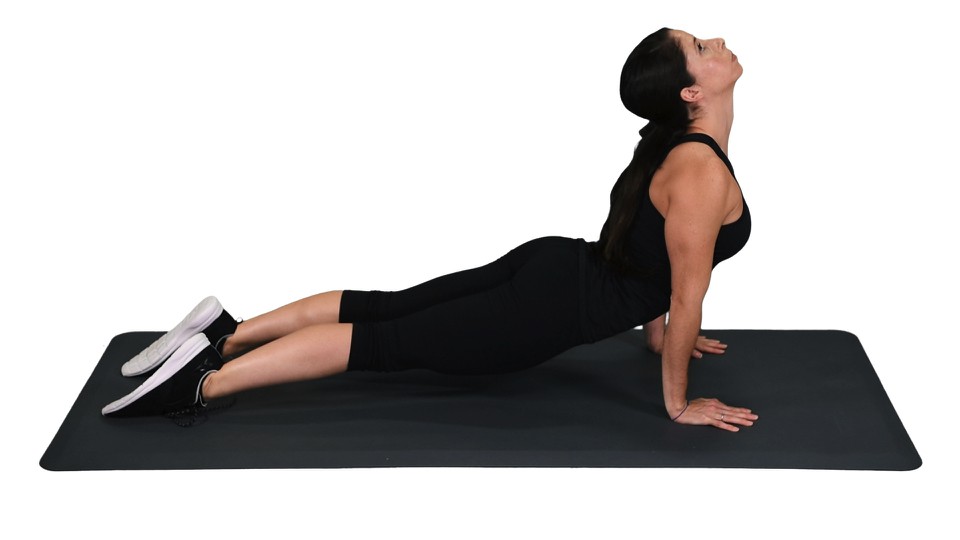 Upward Facing Dog
Looking to add this exercise to your workouts?
Customize your workouts simply by adding or removing Sworkit exercises. Sign in or sign up to get started.
Try It Out