Sworkit is a fitness system that understands your pain, frustration, and schedule. With Sworkit, the feeling of being too busy, too intimidated, or too unmotivated will be a thing of the past. You can live your best life, once and for all. Who says you can't get and stay in shape?
You don't have to live in the gym to be fit. You can get in amazing shape with our at-home and on-the-go workout system. Millions agree and have used Sworkit to live healthier lives. It's your turn!
Video: Explore Sworkit
Is this legit?
Sworkit has delivered over 100 million workouts to people just like you and we were rated #1 by a collegiate study assessing fitness apps for safety, the ability to help people progress in their fitness levels, the effectiveness of the workouts, and other science-y guidelines set by the ACSM (American College of Sports Medicine). We're well suited for everyone from beginners to athletes.
Why choose Sworkit?
Whether you're looking to lose weight, tone up, gain muscle, improve your flexibility, or level-up your endurance, Sworkit is here for you.
Our algorithm gives you the workout you need in the time you have. 5 minutes? We have your perfect workout. 45 minutes? We have your perfect workout. No equipment? We have your perfect workout. Resistance bands, kettlebells, dumbbells? You get the idea.
Who is Sworkit made for?
People new to fitness
People who want to supplement their current fitness habits
Anyone too busy to make it to the gym
New moms getting back in shape
Dads no longer digging that "dad-bod"
Travelers needing fitness on the road
Busy professional who just needs an easy way to get in great shape
What about the kids?
We offer a unique library of kids' workouts, perfect for any young ones in your life, whether you are a teacher, parent, or coach. Kids Content is 100% free and does not require a subscription.
---
What do you need to know to be successful in starting an exercise habit?
Believe: Believe in yourself that the reason you are considering exercising at all right now is strong and that you are going to be able to stick with it once you see how simple it can be
Plan: Don't just find the time to exercise, make the time to exercise. This means setting a schedule and telling those around you what it is so it can't be interfered with. Start with 3-4 times per week.
Prioritize: Making fitness a priority means that you are making yourself a priority. It will give you more energy and positivity in everything else you do. To be a more patient and active parent, a more present spouse, more motivated about your work, and an overall more positive person.
Get Started: Starting anything new can be tough and is often the hardest part. Follow our recommendations, or even reach out to our trainers if you are unsure, but more importantly, focus on that first workout, that second workout, and then that third workout. For most of our members, just those first 3 workouts can set anyone on a path to consistency no matter what has happened in the past
Keep it Simple: With Sworkit, you simply choose a workout, choose how long you want to work out for, and follow along. We provide detailed audio instructions as well as videos so you can just follow along with ease.
---
It's time to learn more about how to get the most out of Sworkit…
There are four main tabs in Sworkit and a few ways to get started.
Workouts: Access to over 400+ workouts. Choose from our Essentials, try the daily workout challenges, enjoy Sworkit Kid workouts, search our entire workout library, or choose from a curated collection such as Older Adult, Better for Beginners, Dumbbell Workouts, Workouts for Runners, Pre and Post Pregnancy, Rebahilitation & Care, and more…
My Plan: Access Sworkit's simple to follow 6-week plans. Choose to get Leaner, Fitter, or Stronger. Choose from Beginner, Intermediate, or Advanced.
Custom: Create your perfect routine. Choose from over 800 body weight and small equipment exercises to build the perfect workout for YOU.
My Sworkit: Keep track of your stats and consistency over time to stay motivated and on track to meet your goals.
Choosing a workout
There are 4 main ways you can start your workout…
1. Choose from Sworkit Essentials of Strength, Cardio, Yoga, or Stretching
The Sworkit Essentials section has been curated to include some of our most popular and easy to get started with workouts. Full-Body Strength, Full-Body Stretching, Full-Body HIIT, and Every Day Feel Good Yoga are the most popular workouts amongst Sworkit members. New workouts are added every month to keep things interesting and to keep you motivated.
2. Take part in the daily and monthly workout challenges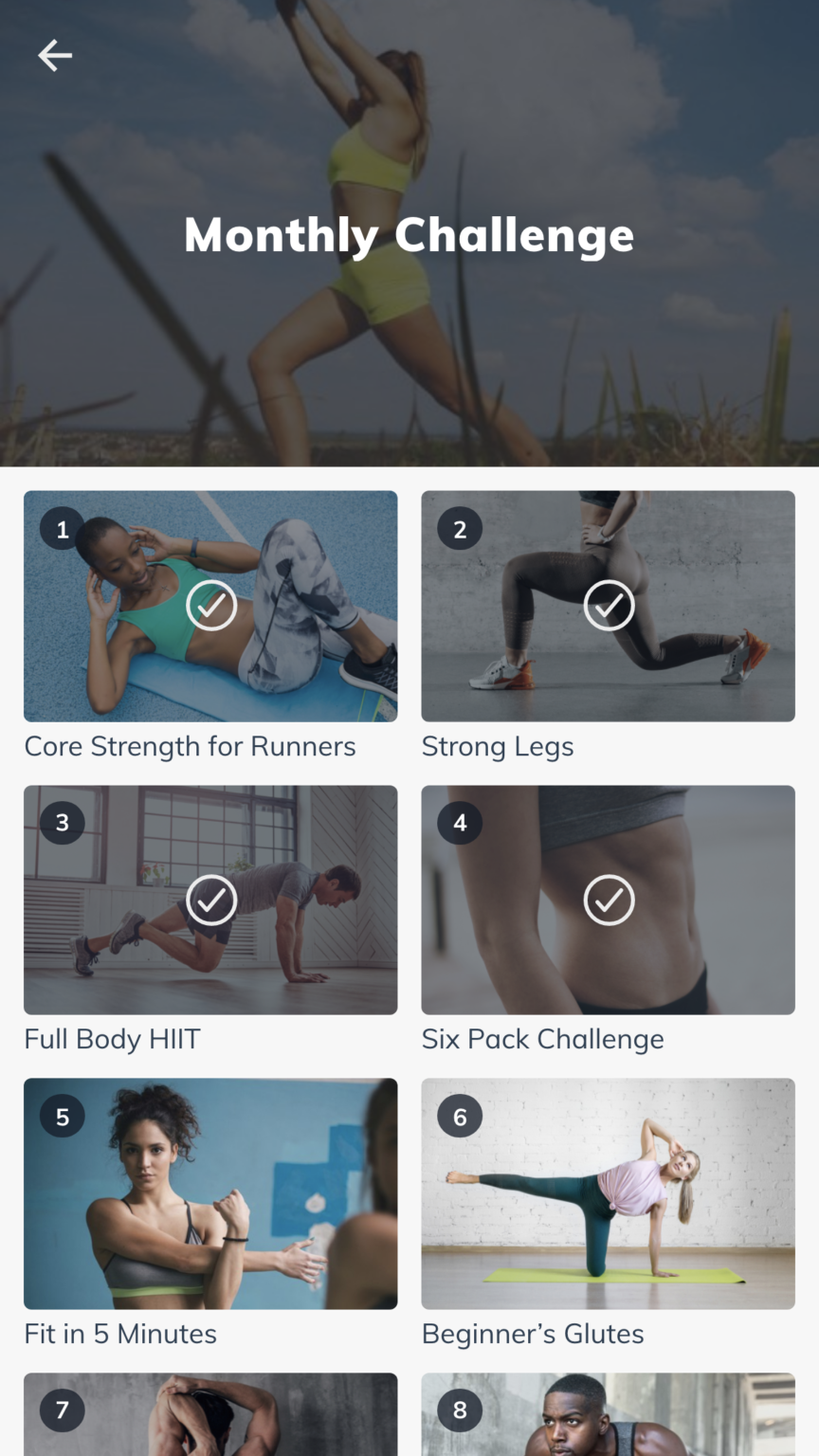 Sworkit's monthly challenge is updated, you guessed it, every month. Members who live every day by these challenges love how much variety it introduced them and their bodies to. It will cover every area of fitness to give you a well rounded, and fun experience without ever having to think about what you want to do.
3. Choose from our workout collections
At Sworkit, we are constantly updating our workout collections to provide the most relevant and motivating workouts to all of our members. In these workout collections, you will find our small equipment workouts like dumbbells, kettlebells, and resistance bands, as well as specific collections for sports, fitness levels, different ages, and different goals.
4. Search our complete workout library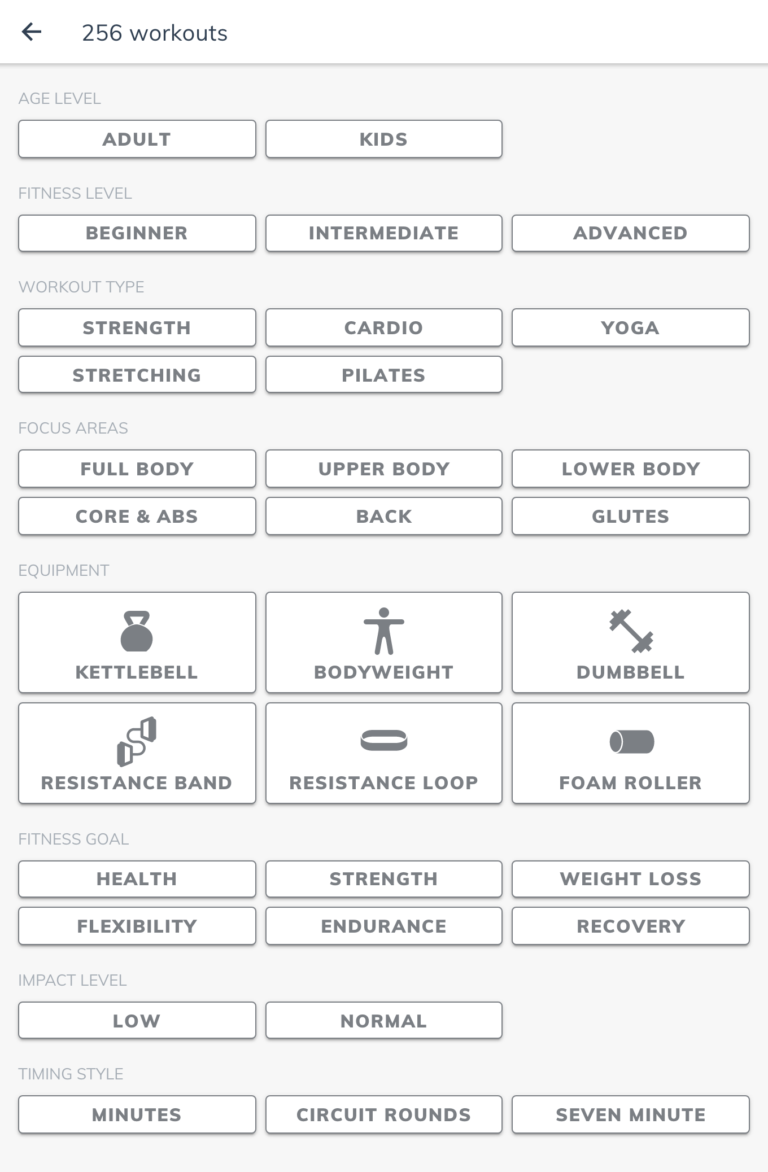 Using the search icon at the top right of the main screen will allow you to browse all of Sworkit's workouts in one place. You can filter based on age level, fitness level, workout type, focus area, equipment, fitness goal, impact level, and different timing styles.
5. Follow a guided 6-week plan. Leaner, Fitter, or Stronger. Beginner, Intermediate, or Advanced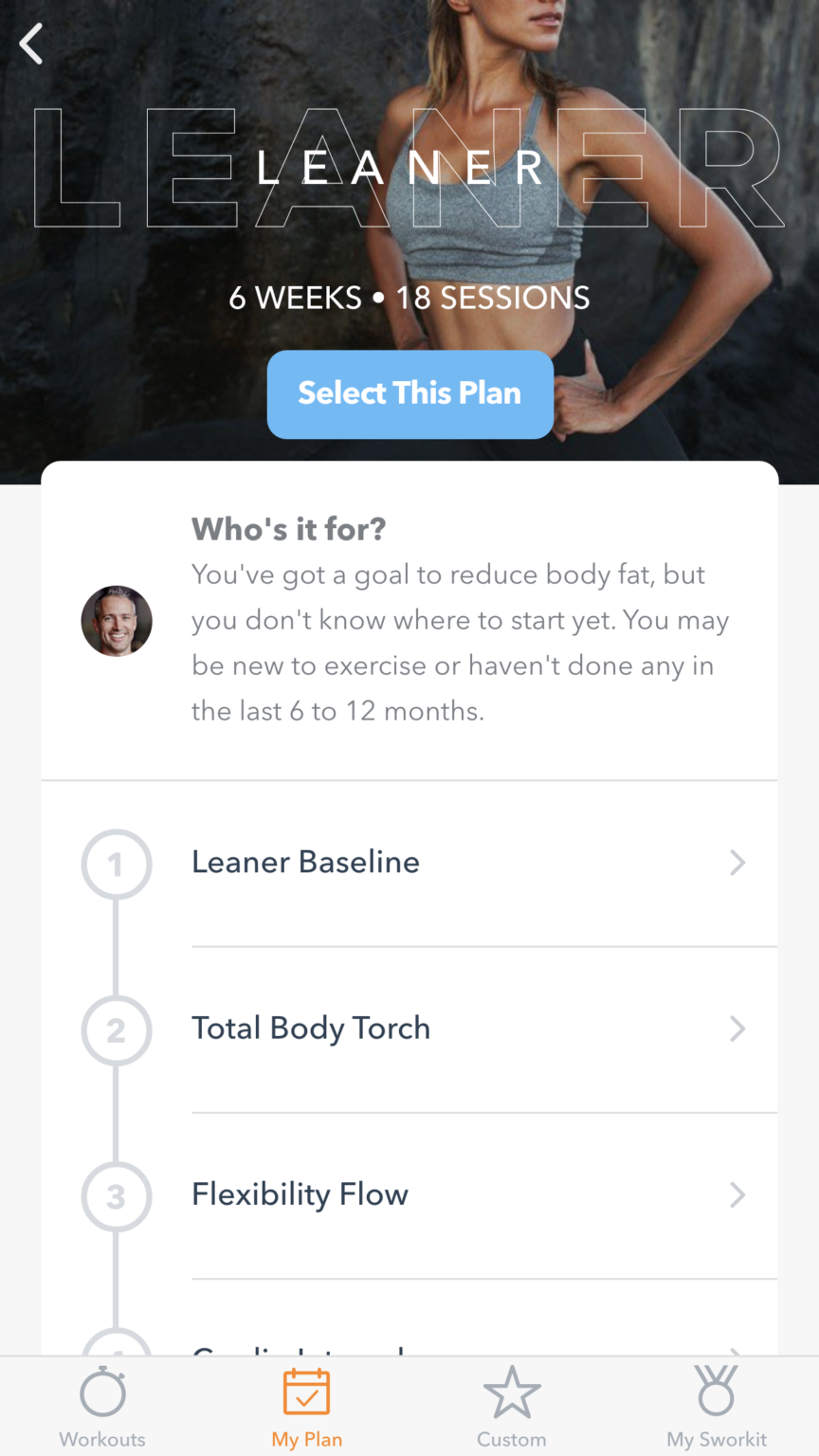 When Sworkit introduced our workout plans, they instantly became a favorite for new members because they take all of the thinking out of working out. Curated by our team of fitness professionals, these plans come with recommended time lengths of 15, 20, or 30 minutes and allow you to be flexible depending on how much time you have available any day.
6. Customize any of our workouts or create your own from scratch
One of the features that really sets Sworkit apart is our custom workout builder. You can start out by modifying one of our workouts using the "Customize" option or create your own from scratch from over 800 available exercises. Using the "Filter" option, you can filter exercises by age level, difficulty, exercise category, focus area, equipment, standing vs on the floor, impact level, and even noise level.
---
More Product Features
Now that you've learned about all the options you have for choosing workouts, let's look a bit more into some of the other features and benefits that Sworkit offers. As a team, we value creating features that are flexible, simple to use, can work for a wide variety of experience levels, and above all, can make YOU successful in teaching your goals.
Customize Your Workout Length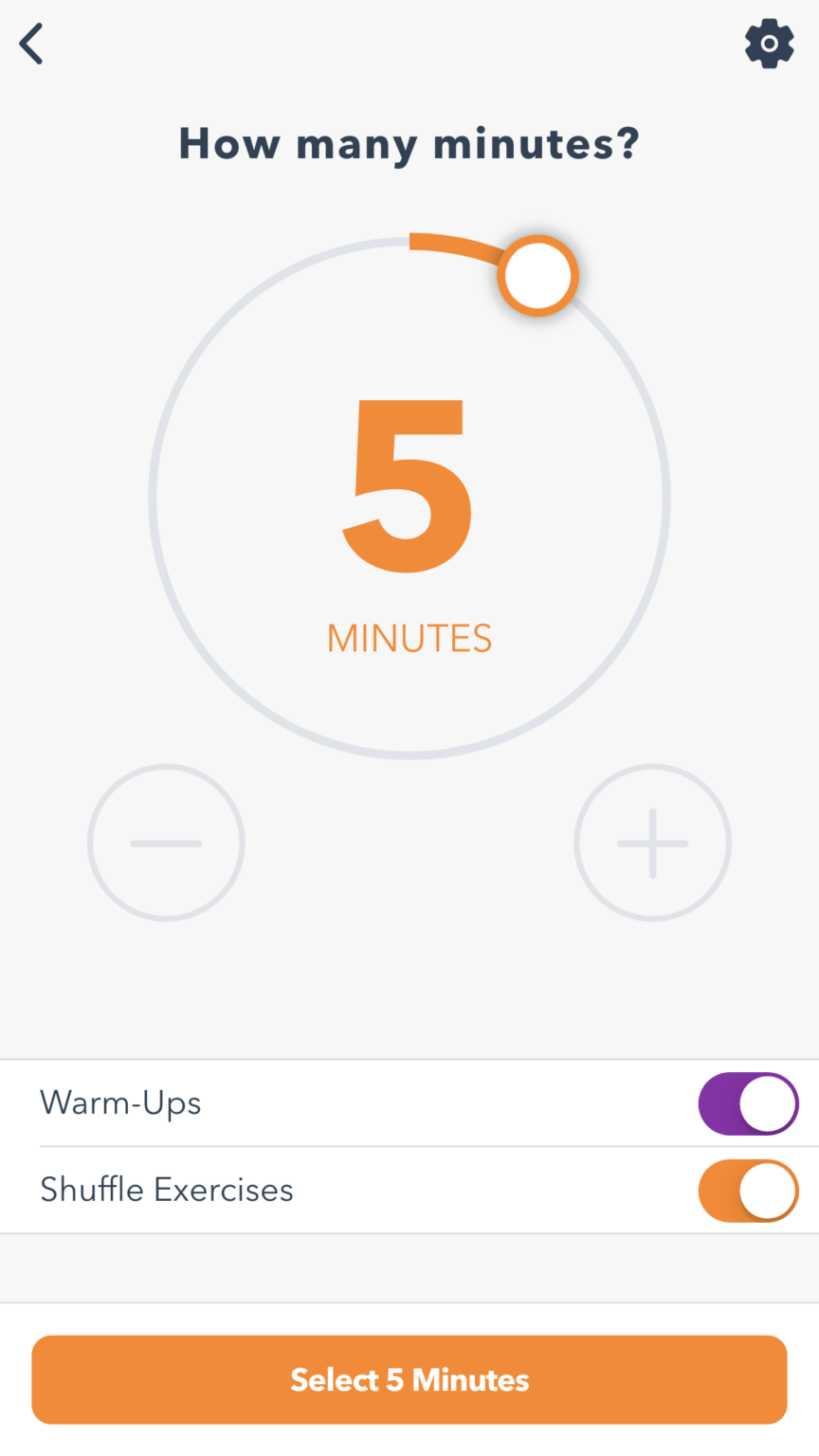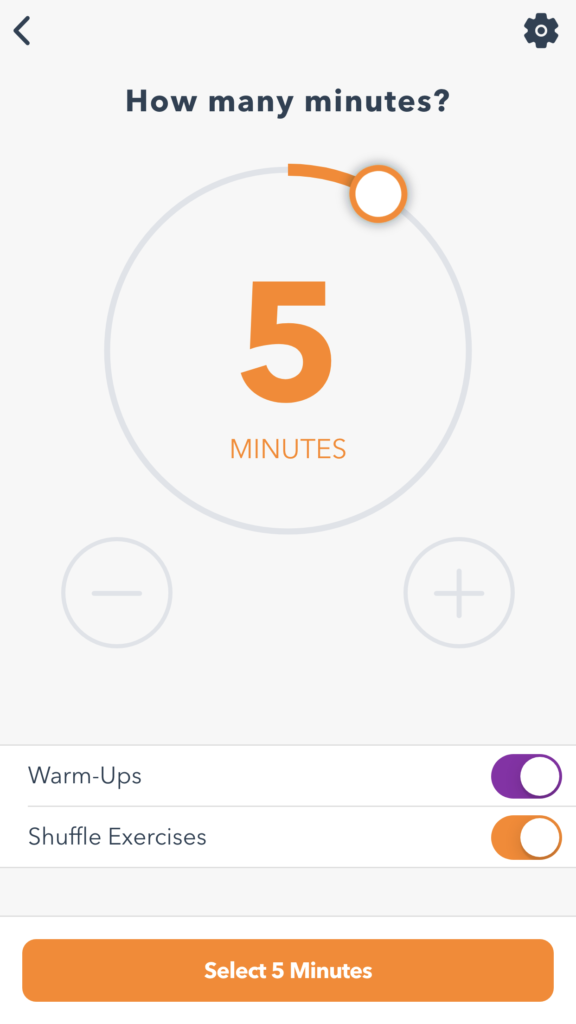 If you're anything like us, every day is different. Life happens, and we don't always have the same amount of time to workout each day. This is why Sworkit is committed to ensuring you have the flexibility to work out in any amount of time. With Sworkit you can choose exactly how long you want the workout to be and we'll create the workout that is right for that moment.
Schedule a Workout Reminder
Scheduling your workouts is a very important part of staying consistent and keeping fitness as a priority in your life. Sworkit allows you to set a few different types of reminders. Daily reminders to workout every day, Inactivity reminders to remind you when you are getting lazy :), and next workout reminders that can be set at the end of any workout.
Browse the Exercise Library
Sworkit provides extensive details for all of or 800+ exercises. Take some time to learn about how to perform and modify any exercise and to discover new exercises you've never tried before.
Sworkit Music
Music can make or break a workout, so we've made sure to give you plenty of options in Sworkit. Choose from Sworkit's own workout radio stations, or our Apple Music and Spotify options. If you'd prefer your own music, that's perfectly fine too. Sworkit plays well with other music apps playing in the background.
Customizable Workout Settings
Another one of Sworkit's features that sets it apart from other workout apps is how much control we give you over the workout experience. Customize your workout to be perfect just for you. You have control of warm-ups, exercise shuffling, exercise intervals, transition intervals, rest intervals, and even the amount of audio guidance you prefer. Whether you're looking for a calm zen-like workout or a high-intensity Tabata timing, you're in control.
Ask a Trainer
As a Sworkit member, you also have direct access to ask questions to our certified trainers. Need advice on where to start, struggling to find motivation, curious about basic nutrition and planning? Our team is ready to help make sure you are successful.
Sworkit Kid Workouts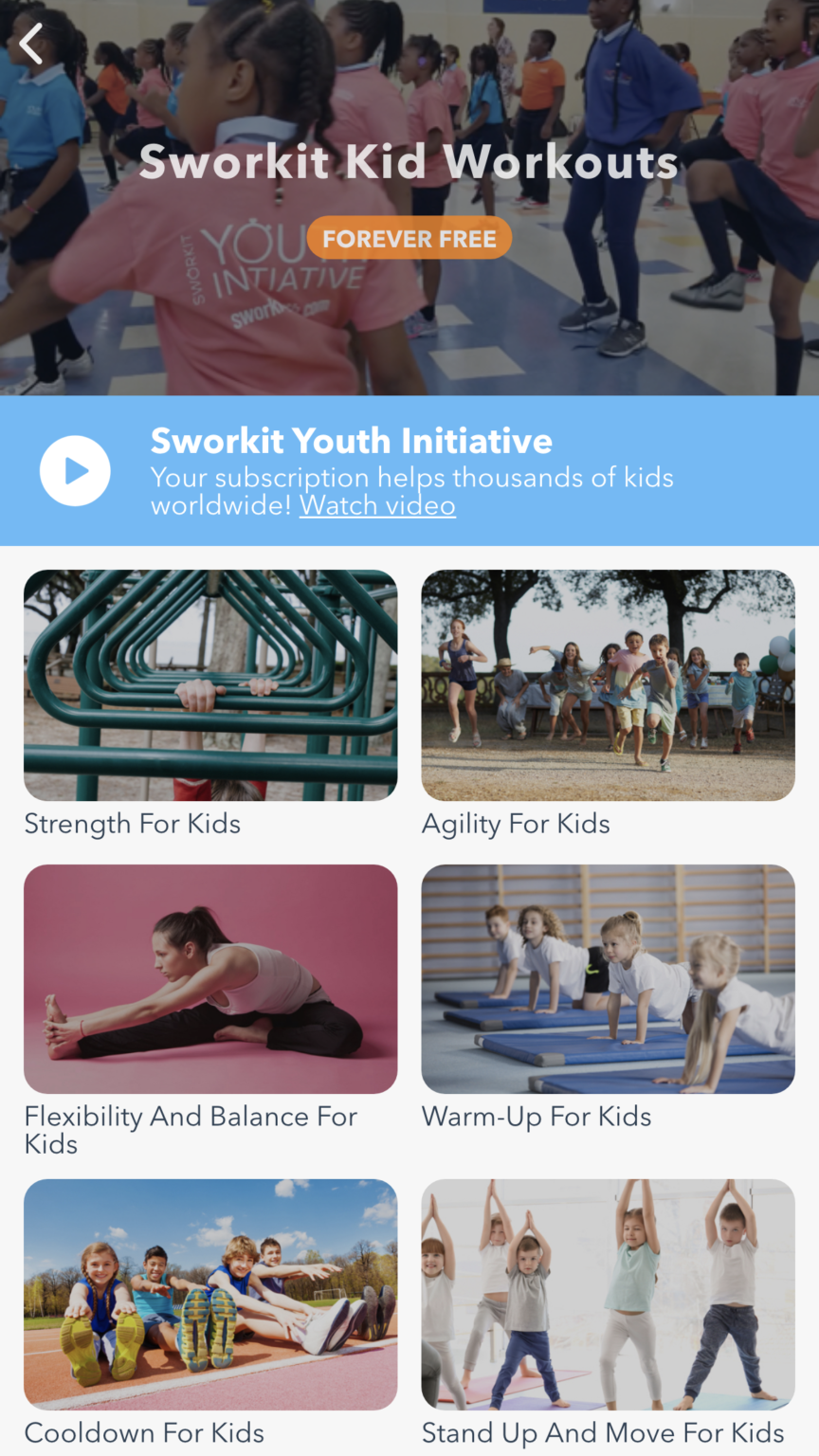 At Sworkit, we believe that healthy habits start early. That's why we offer kids friendly workouts that include kids in the videos making them even easier to follow along with for the little ones. This is just one part of our Sworkit Youth Initiative which is making a positive and long-lasting impact on children's exercise and nutrition habits. Learn more about the Sworkit Youth Initiative.
Sworkit Small Equipment Workouts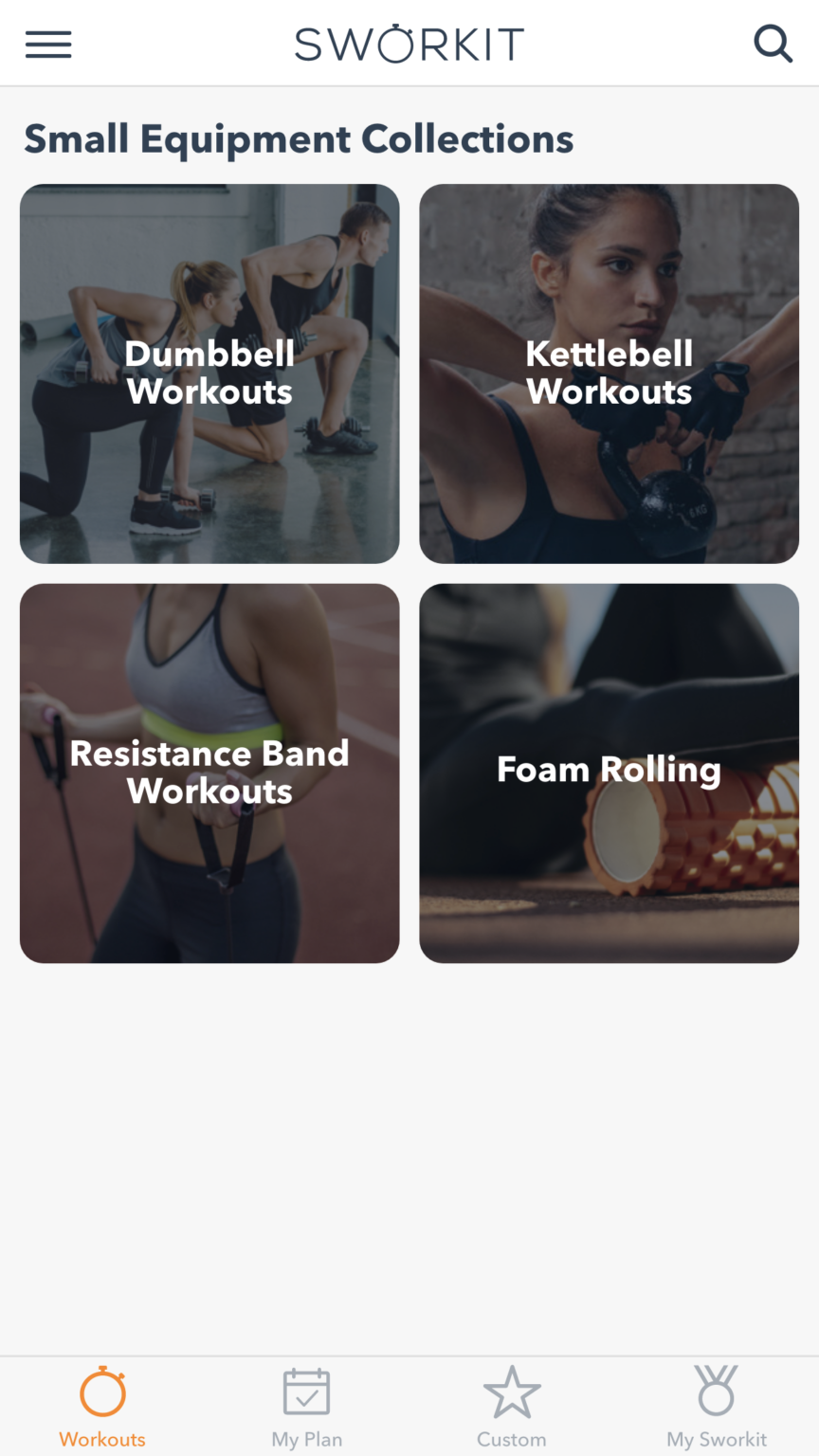 Not only does Sworkit offer an extensive library of bodyweight and rehabilitation exercises, but we also offer a selection of small equipment workouts. Currently available are dumbbell, kettlebell, resistance band, resistance loop, and foam rolling workouts.
Sworkit Rehabilitation and Care
Unfortunately, we aren't always at our peak health and injuries do happen. Thankfully, Sworkit has you covered in any situation. We've worked with physical therapists to bring an extensive library of rehabilitation and care exercises for all of the most common injuries. Currently available are Ankle Care, Elbow Care, Hip Care, Knee Care, Lower Back Care, Neck Care, Shoulder Care, and Upper Back Care. We recommend that if you are considering using Sworkit for these exercises that you consult with a medical professional to ensure you choose the right exercises for you.
Connected Apps
With Sworkit you can sync your workouts with many of your favorite fitness tracking apps:
Apple Health
Google Fit
MyFitnessPal
Strava
Sworkit in 13 Languages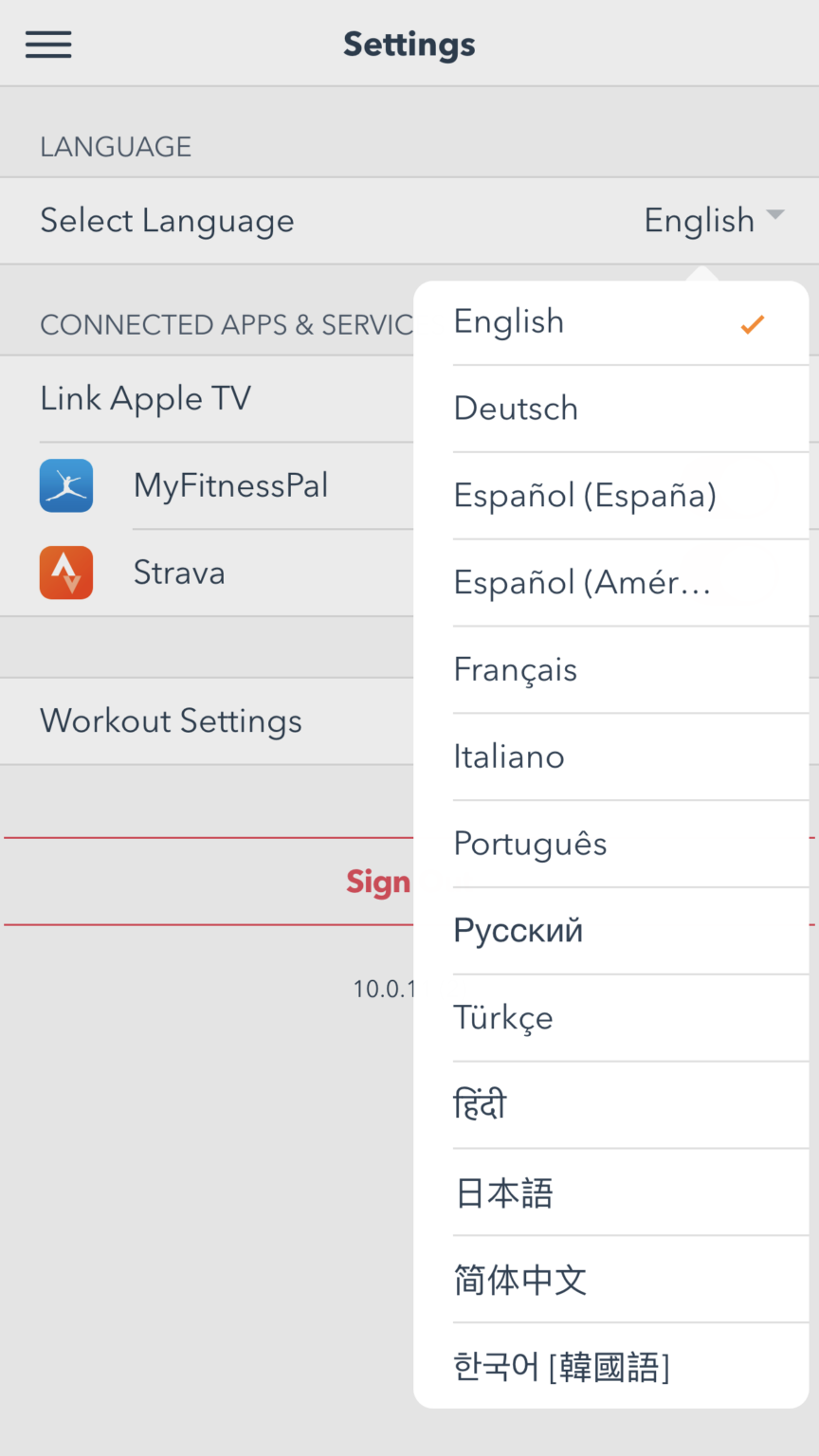 Sworkit is available in 13 languages! English, German, Spanish (LATAM), Spanish (ES), French, Italian, Portuguese, Russian, Turkish, Hindi, Japanese, Chinese, and Korean.
Apple TV, Apple Watch, and Web App
Take Sworkit to the big screen with our Apple TV app, or control workouts from your wrist using our Apple Watch app. You can also use Sworkit on in your favorite browser at https://app.sworkit.com. From here, you can mirror the web app to Chromecast and other TVs at
Help Center
Finally, but certainly not least important is our dedicated support team. We pride ourselves as a customer-first company. Most of our support staff are also certified trainers and we believe that the success of every member is critical to our own success. You can reach us anytime you need help or are just looking for some extra motivation. You also have access to our most commonly asked questions about the app and fitness in general at Sworkit Help Center.