We love Instagram! There are endless fantastic pages to follow and so many ideas to discover and share. Of course, one of our favorite things is sharing recipes that are easy, tasty, and chock-full of healthy stuff. However, do you ever find yourself thinking, "There was a post, somewhere, with a recipe for something that I really wanted to try. Where and what was it?" We do that too—all the time.
Therefore, we're coming at you with another recipe roundup (find Recipe Roundup 1 here). The following recipes are our absolute faves from the last few months. We hope they'll become yours as well!
We want to thank @maryswholelife for sharing this prep-ahead masterpiece. Eggs Benedict is a classic brunch staple but unquestionably a hassle. Having a crowd over for brunch? This healthy twist on the original offers 100% of the original's indulgent taste, with half the struggle! It also makes for a quick reheat weekday breakfast.
@purelykaylie led us to our new favorite snack attack remedy! Craving something crunchy, salty, and sweet? In a matter of minutes, you can have a bowl full of this utterly satisfying, totally vegan, chocolaty decadence.
We all struggle with squeezing a satisfying, healthy breakfast into our morning routines. Luckily @simplyquinoa delivers pure breakfast genius with this recipe! These tacos can be on the plate in five minutes and have us looking forward to Taco Tuesday, Wednesday, Thursday…
A bowl of creamy, butter-laden mashed potatoes is the epitome of comfort food for many. Unfortunately, they are not healthy in any way, shape, or form. Fear not, friends! @erinliveswhole heard our cries and has liberated us with this spectacular potato cauliflower mash-up. Lower fat with equal indulgence.
A steaming bowl of rich, satisfying chili that hits the spot in little more than an hour? It can't be, you say? @purelykaylie does it again with this vegan chili with seemingly endless layers of flavor. A great candidate for your go-to busy weeknight recipe rotation.
Can we improve upon cheesy garlic bread? With the help of @dianemorrisey, we can. Imagine a Hasselback potato, give it a bagel twist, stuff it with fresh mozzarella, and grace it with a warm side of your favorite marinara for dipping. Treat yourself!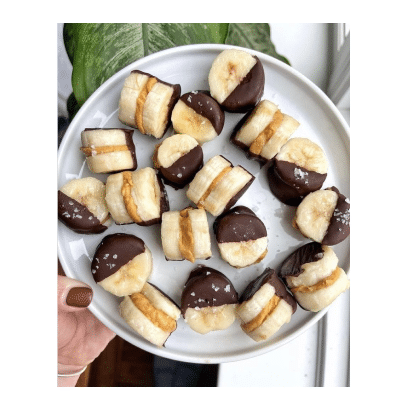 We can always count on @erinliveswhole to gift us a healthy protein boost in the form of a scrumptious treat. Keep a stash of these banana bites on hand in the freezer for when your sweet tooth starts acting up.
Time to get your Sunday afternoon bake on! No need to search through hundreds of recipes. This remarkable quick bread, courtesy of @melissas_healthykitchen, pairs wonderfully with your favorite sweet or savory topping. Perfect for an on-the-go weekday breakfast, but it could also become our go-to French toast bread. 
Who better to be the creator of our latest healthy smoothie obsession than a registered dietitian? @superhealthykids brings us all the way back to afternoons at the mall, stopping at Orange Julius before hitting up Benetton, but in a far healthier (undoubtedly more fashionable) way. Using whole fruit instead of juice, this recipe provides the max amount of nutrients available.
A healthy, whole-food, plant-based, refined sugar and gluten-free sandwich that is like no other—a wholly satisfying, energy-boosting treat brought to you by the brilliant minds behind @monkeyandmekitchenadventures.
If you love these recipes as much as we do, you'll find many more to come when you follow us on Instagram. Of course, in case you miss anything, we'll be back in a few months with another favorite recipe roundup.